Shelf bins with a lower total height, ideal for the storage of smaller items. Six different versions available.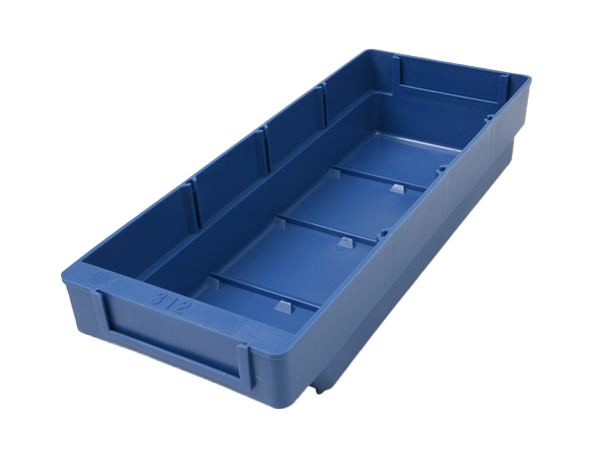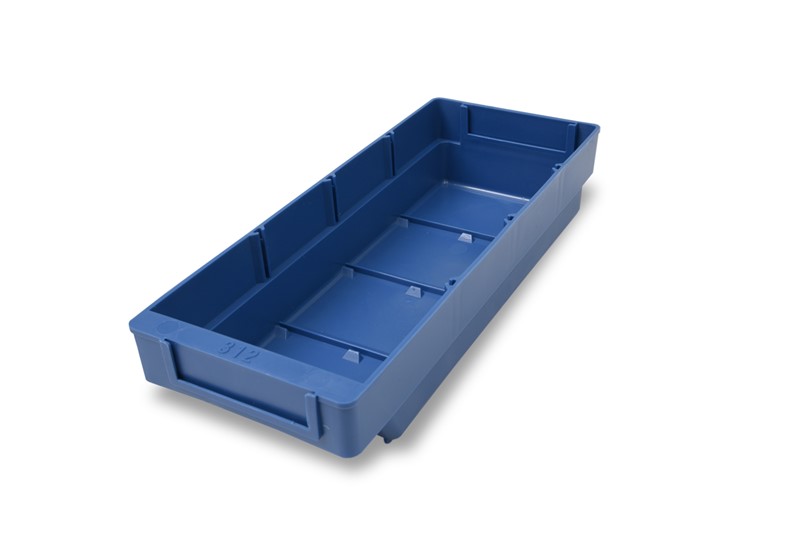 | | |
| --- | --- |
| Type | 312 |
| Dimensions mm | 300x120x65 |
| Interior dimensions | 240x95x60 |
| Dividers/bin (max) | 3 |
| Quantity/carton | 36 |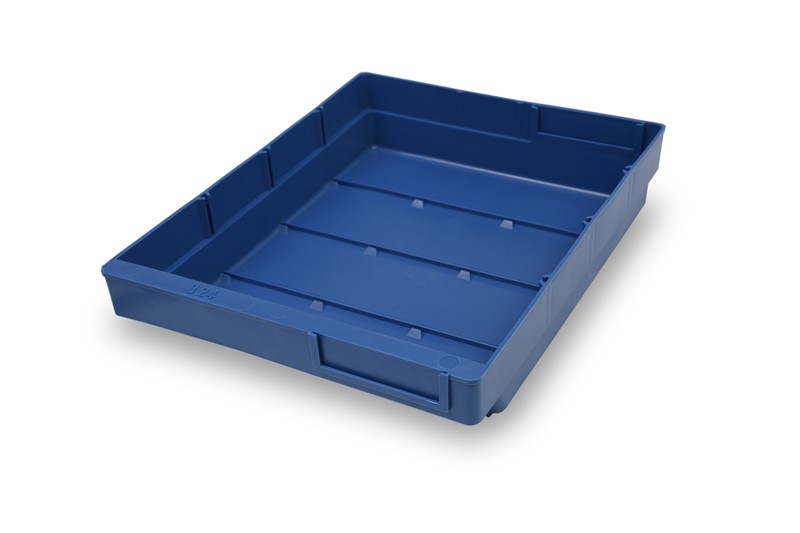 | | |
| --- | --- |
| Type | 324 |
| Dimensions mm | 300x240x65 |
| Interior dimensions | 240x215x60 |
| Dividers/bin (max) | 3 |
| Quantity/carton | 18 |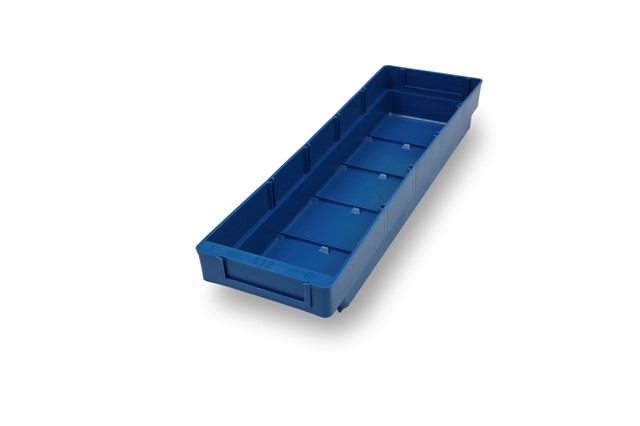 | | |
| --- | --- |
| Type | 412 |
| Dimensions mm | 400x120x65 |
| Interior dimensions | 340x95x60 |
| Dividers/bin (max) | 4 |
| Quantity/carton | 36 |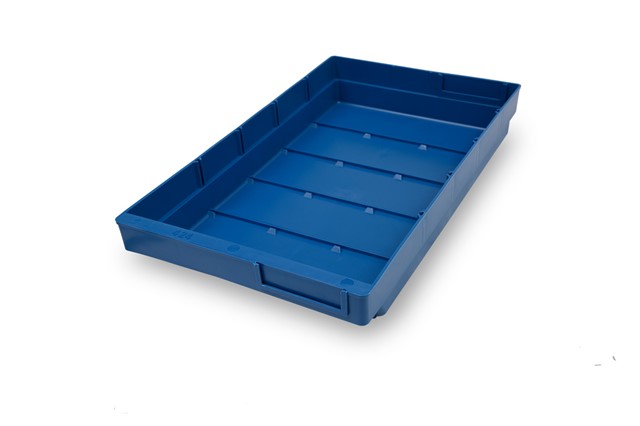 | | |
| --- | --- |
| Type | 424 |
| Dimensions mm | 400x240x65 |
| Interior dimensions | 340x215x60 |
| Dividers/bin (max) | 4 |
| Quantity/carton | 18 |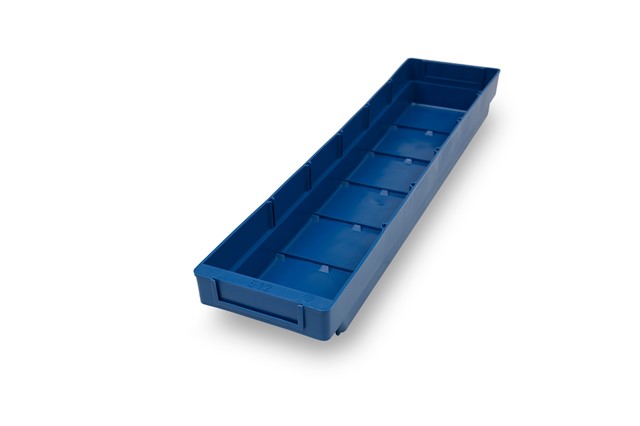 | | |
| --- | --- |
| Type | 512 |
| Dimensions mm | 500x120x65 |
| Interior dimensions | 440x95x60 |
| Dividers/bin (max) | 5 |
| Quantity/carton | 36 |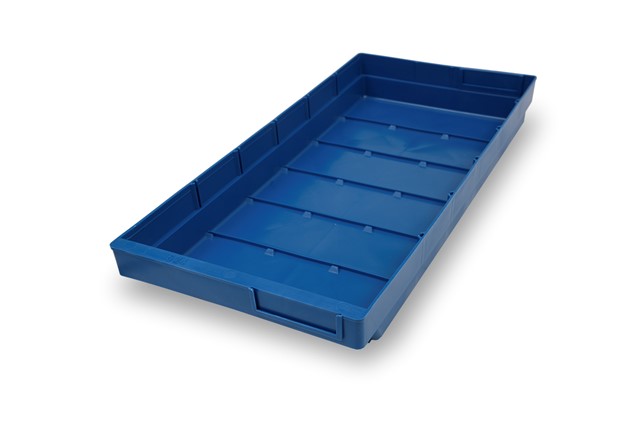 | | |
| --- | --- |
| Type | 524 |
| Dimensions mm | 500x240x65 |
| Interior dimensions | 440x215x60 |
| Dividers/bin (max) | 5 |
| Quantity/carton | 18 |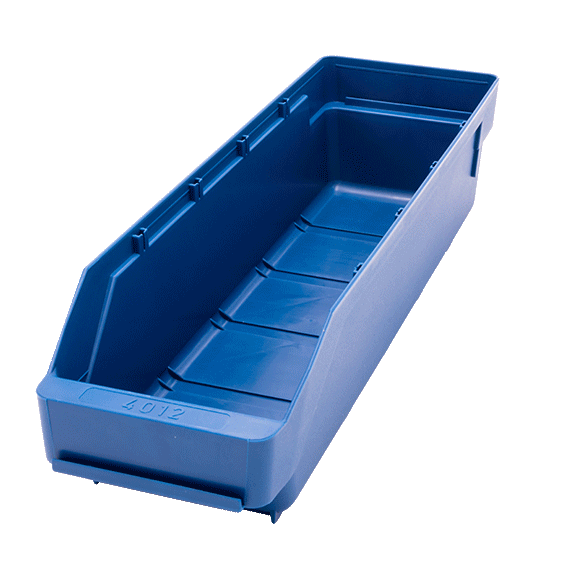 We can supply dividers, labels, label holders (not MIDI) and container stops for all our shelf bins.
Midi-Bins: Compact & Durable Shelf Bins Solutions
Midi-Bins are storage boxes designed with a reduced height, making them perfect for storing smaller items. These shelf bins are constructed from durable and recyclable polypropylene, ensuring superior quality and stability. Prioritizing ergonomic design, these shelf bins come equipped with a front grip, ensuring ease when pulling them out. An optional accessory, the container stopper, can be added to enhance workflow and ergonomics. This stopper ensures that the bin remains steady when pulled out.
For those looking to optimize the sorting of small parts and declutter their workspace, our practical dividers within these shelf bins are the ideal solution. These transparent dividers offer a clear view of the contents, simplifying the process of sorting various small components. Furthermore, users can label and categorize stored items by attaching labels to the intermediate walls, enhancing organization and ease of access. With an array of sizes and accessory choices, these shelf bins can be tailored to align with your specific workflow demands. Industries such as automotive, retail, e-commerce, and healthcare currently employ our Midi-Bins.

Sturdy Shelf Bins for easy storage
Stemo offers a wide range of shelf bins in different sizes and colours. Create a easy sorting landscape where parts, tools and equipment are easy to find, right when you need them. Gone are the days of mess and stress, with shelf bins from Stemo your part or tool of choice is only a reach away. The storage boxes are made of sturdy plastic and will keep steady over time in any environment. 
The shelf bins from Stemo are with you for the long haul. The high quality and rigid material promises a long time of usage, no matter how your workspace looks like.
Using Stemo Shelf Bins: Enhancing Efficiency and Organization
Shelf bins from Stemo can significantly improve your workflow and structure for a variety of reasons:
Organization: Shelf bins help you categorize and organize your items systematically. This ensures easy access and reduces the time spent looking for items, thus speeding up the workflow.

Space Efficiency: Stemo bins are designed to utilize shelf space efficiently. They come in different sizes and shapes, which can be arranged and rearranged based on your storage needs, thus saving valuable workspace.

Durability: These bins are known for their durability. They can withstand regular use, resist damage, and last for a long time, thus eliminating the need for frequent replacements and reducing long-term expenses.

Customizability: Stemo shelf bins often come with label holders, allowing you to easily mark and identify contents. This customization increases efficiency and reduces the risk of errors in your workflow.

Environmentally Friendly: Using shelf bins like Stemo's can contribute to a more sustainable workflow by encouraging reuse rather than disposal of storage materials.

Improved Inventory Management: In warehouses or similar environments, Stemo shelf bins can aid in managing inventory more effectively. They can simplify stock counting and tracking processes, thus preventing stock-outs or overstocking issues.

Product Protection: Stemo bins can protect products from dust, damage, and other potential hazards in a workplace. This can reduce product loss and associated costs.

Reduced Clutter: By providing a designated place for every item, shelf bins can significantly reduce clutter in the workspace. A clean, uncluttered environment can improve focus and productivity.

Boosts Efficiency: All of the above points lead to an overall boost in workflow efficiency. When items are easily accessible, well-protected, and systematically arranged, the workflow is smoother and faster.
Therefore, integrating Stemo shelf bins into your workflow and structure can contribute to an organized, efficient, and productive working environment.