Storage bins for various requirements.
Storage and logistics are important for many types of businesses. Smart storage systems are for all who wish to improve working environment and efficiency. There are constantly new user areas in healthcare, retail, office, e-commerce, etc. – wherever there is a need for structured storage solutions.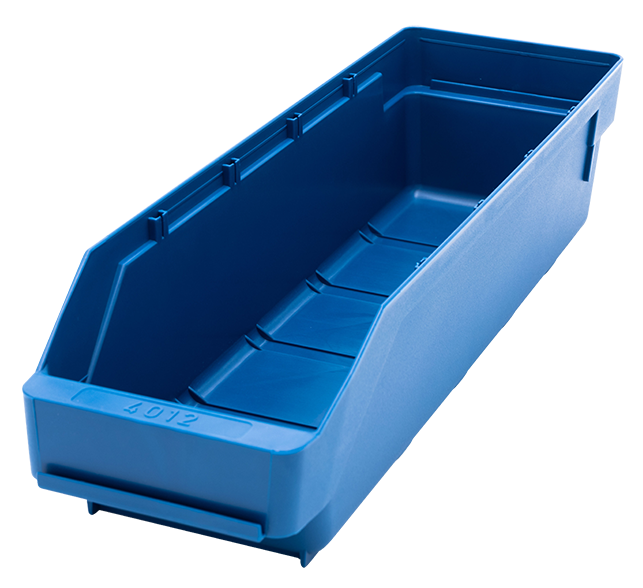 Component bins in 16 different sizes, all with the same height, for a uniform look but maximum flexibility.

Volume bins to store larger items. Available in five different sizes, with a smart design for optimal storage.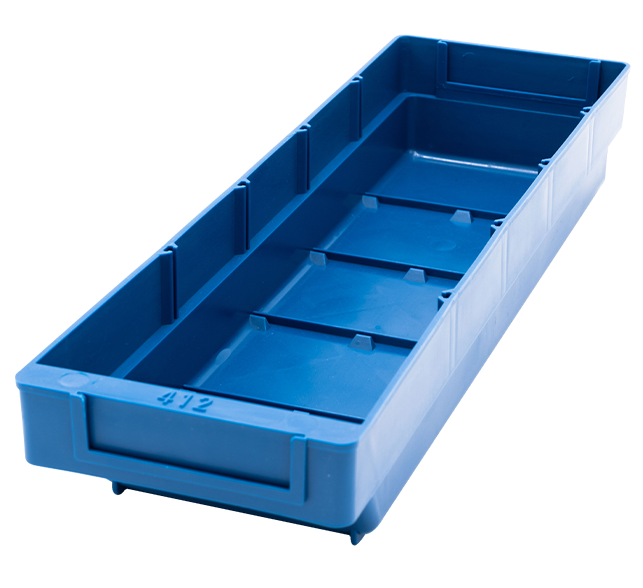 Bins with a lower total height, ideal for the storage of smaller items. Six different versions available.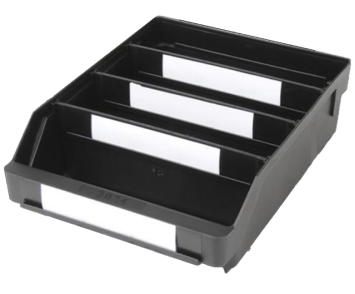 Our black component and volume bins are available in an ESD-safe version: made from conductive materials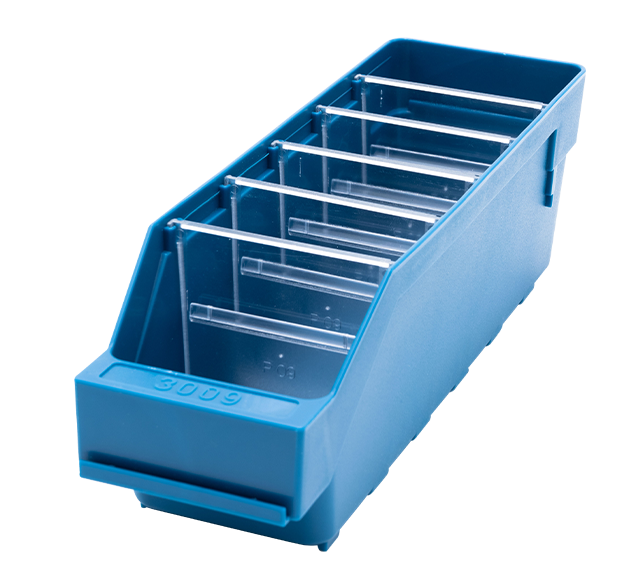 All accessories for our bins (dividers, labels, label holders and drawer stops) are made from recycled plastic.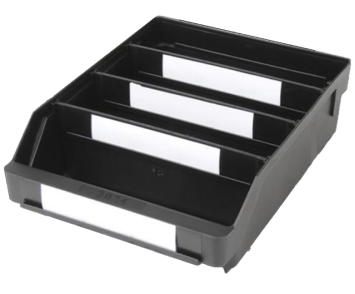 Designed for workplaces where static electricity can be an issue. Our component and volume bins are available in an ESD-safe version: made from conductive materials, they meet the IEC 61340 standard. 
With 50 years of experience in the industry and an expanding global presence, our customers trust us to provide efficient and effective storage solutions tailored to their needs.  
 
As a dependable partner, we pride ourselves on our traditions and strive to continually improve and innovate in order to best serve our clients. 
Storage bins are the perfect solution for keeping small parts organized and easy to find. At STEMO, we offer a wide range of storage bins in different sizes and designs to meet all of your storage needs. From small storage bins for tiny parts to larger volume bins, we've got you covered. Stemo offers a wide range of box sizes to cater to the various needs of your business. Whether it is in the automotive industry, retail, e-commerce, or healthcare, our boxes will be highly beneficial. We provide 16 different sizes to choose from, available in blue, red, yellow, green, and grey. This allows you to create a uniform and organized environment while personalizing the boxes to match your style and preferences.
Disorganization in your storage bins can lead to frustration and lost items. That's why it's important to have a clear plan for your storage bins and use accessories such as dividers, labels, label holders, and box stops to help with sorting and organization. Our storage bins, along with these accessories, will make it a breeze to keep everything in order and easily accessible. Don't let small parts get the best of you – choose our storage bins for a tidy and efficient workspace. A key feature of our small parts boxes is their ergonomic design. With a sturdy front grip, making it easier than ever to pull out the boxes and access your stored contents. To further enhance usability, you can choose the smart accessory, a bin stop, which allows the box to stay attached when pulled out, improving workflow, and reducing effort.
In addition to improving organization, shelf bins and storage bins can also help you save space. This can be particularly helpful in workplaces and situations where space is limited. Also, by storing items in bins, you can reduce clutter and prevent items from accumulating on surfaces or in corners. This will create a more clean, welcoming and organized work environment, which also leads to higher productivity.
The durability of STEMO storage bins
One of the significant advantages of STEMO storage bins is their durability. Crafted from high-quality materials, our bins are designed to withstand the everyday wear and tear of a bustling workspace. Whether you're storing heavy tools or lightweight plastic parts, our bins can handle it all without compromising their structure. This durability ensures a longer lifespan for the bins, reducing the need for frequent replacements and offering better value for money.
Safety First with STEMO Bins
Safety in a workspace should never be compromised. Our bins are designed with safety in mind. The smooth edges prevent accidental cuts or scratches, while the sturdy base ensures that the bins don't tip over easily. Additionally, the ergonomic design of our bins makes handling them a safe and comfortable experience, even when they're full.
Maximizing Efficiency with STEMO's Modular Design
A key feature of our storage bins is the modular design. This means you can combine multiple bins to create a storage system that's perfect for your specific needs. No more settling for one-size-fits-all solutions! With STEMO, you have the freedom to design your organizational structure, allowing for optimal space utilization and efficiency.
To optimize your small parts storage and streamline your workspace, you can use our practical dividers in the storage boxes. The transparent dividers provide a clear overview of the contents. Additionally, you can categorizestored items by adding labels, promoting ease of handling and organization.